New Construction & Remodeling
Florida 2000, Inc. has established business relationships with dependable, licensed & insured contractors for nearly 20 years now
We can help you… from the smallest repair job to new construction of a million-dollar home!!
TALK TO US AND WE WILL ASSIST YOU
Remember, the first principle of real estate is: Location - Location - Location!!!!




Our Service is to be with you every step of the way
We will help you find the right building site
Assist you in selecting a high quality and financially-secure construction company
Share our expertise when it comes to the features and design of the house
Help you negotiate the price and terms of the contracts
Work with architects and engineers
Monitor the building progress
If you are out-of-town: Keep you updated by sending you regular emails and photos





About the quality and stability of homes being build in Florida
Many people are concerned about the possible impacts that a hurricane could have on their property. Keep in mind that a direct hit by a major hurricane is an extremely rare event. The 2011 Atlantic Hurricane season produced 7 hurricanes and only 3 of those storms reached a Category 3 or higher which is an average number. Florida once again did not have any destructive weather or hurricane land fall. The likeliness for Lee County to get hit by a major storm is at only 1.4%.
When Hurricane Andrew hit the Florida east coast in 1992, Florida building officials blamed much of the destruction on the wind pressurizing the homes, then blowing off roofs and collapsing walls. To minimize property damages during future hurricanes, the code was changed to fortify buildings against wind penetration.
In relation to the structural wind resistance of buildings, manufacturers now have to demonstrate strict compliance with the area's local buidling codes. Hurricane-tolerant structures and designs are required for residential as well as commercial buidings.
Windows, French doors, and sliding doors must be protected from windborne debris by hurricane shutters or impact resistant glass and have to sustain wind forces of at least 130 miles per hour.
Another hurricane protection is the durability of concrete block homes. Concrete walls withstand flying debris from tornadoes and hurricanes and outperform their wood and steel counterparts.



The picture below shows a cross-section of a Concrete Block Structure (CBS):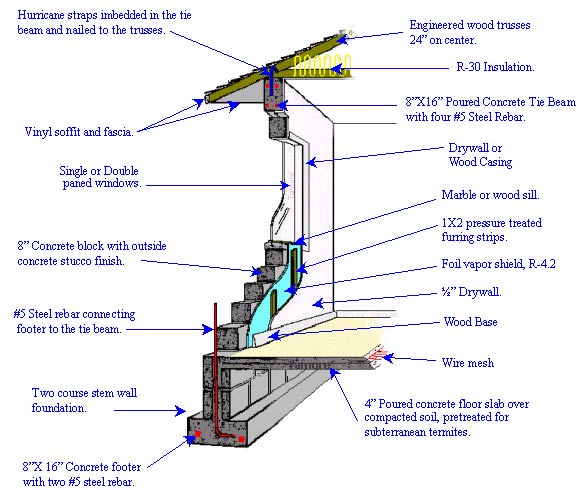 Home Construction Phases
High quality and standards are also insured by the local building department through 28-32 inspections during the construction phases.


Phase 1:
Select and purchase lot, choose floorplan, lot survey, county and city permitting
Phase 2:
Lot grading and excavating, filling to get to required elevation level, pouring of concrete floor slab, dig pool and pour shell
Phase 3:
Building of concrete block walls, tie-beam poured, trusses and roof sheathing installed, framing of interior walls, installation of rough plumbing, electric work and air condition
Phase 4:
Insulation and drywall, installation of doors, windows, trims, baseboards, installation of kitchen & bathroom cabinets, appliances and plumbing fixtures, apply finished interior surface to pool shell and pool deck
Phase 5:
Roof installation, interior & exterior painting, floor coverings, lights & ceiling fans, installation of screen enclosure, pouring of driveway, landscaping & sprinkler system, final walk-through, closing





RELY ON OUR EXPERTISE AND LET US HELP YOU BUILD YOUR DREAM HOME
WE ARE HERE TO MAKE IT HAPPEN FOR YOU!







Glossary of Home Improvement Terms
Before you start your next home improvement project, learn the lingo. These common terms and definitions may help you avoid miscommunications with your contractor.


Allowance
A specific dollar amount allocated by a contractor for specified items in a contract for which brand, model number, color, size or other detail is not yet known.
Bid
A proposal to work for a certain amount of money based on plans and specifications for the project.
Building Permit
A document issued by a governing authority, such as a building department, granting permission to undertake a construction project.
Call-back
An informal term for a return visit made by a contractor to repair or replace items the home owner has found to be unsatisfactory or that require service under the warranty.
CGR (Certified Graduate Remodeler)
A professional certified program offered through the National Association of Home Builders (NAHB). To attain the CGR designation, a remodeler must take a specified number of continuing education courses and must comply with a strict code of ethics.
Change Order
Written authorization to the contractor to make a change or addition to the work described in the original contract. The change order should reflect any changes in cost.
Draw
A designated payment that is "drawn" from the total project budget to pay for services completed to date. A draw schedule typically is established in the contract.
Lien Release
A document that voids the legal right of a contractor, subcontractor or supplier to place a lien against your property. A lien release assures you that the remodeler has paid subcontractors and suppliers in full for labor and materials.
Mechanic's Lien
A lien obtained by an unpaid subcontractor or supplier through the courts. When enforced, real property—such as your home—can be sold to pay the subcontractor or supplier.
Plans and Specifications
Drawings for the project, and a detailed list or description of the known products, materials, quantities and finishes to be used in the project.
Punch List
A list of items of work to be completed or corrected by the contractor, typically near or at the end of a project.
Subcontractor
A person or company hired directly by the contractor to perform specialized work at the job site.